Creative  Ramadhan  Session
Universal Spiritual Office Gathering :  Genuine love, Shining office – Turn Spirit,  Become Culture -Healthy inside, Happy outside
Suggested session : 16.00 – 19.00, together with your shaum break
Genuine love, Shining Office
"Cinta" menurut orang dewasa seringkali tidak "genuine".  Itu sebabnya cinta lebih terdangkalkan menjadi hubungan dengan lawan jenis, perselingkuhan dan affairs.
Padahal cinta adalah essensi ajaran Tuhan. Ramadhan sangat kental mengajarkan cinta kasih. Agama manapun tidak mengajarkan lain kecuali cinta.
Ketika manusia lahir, cintalah yang membuatnya tumbuh, walaupun saat itu direfleksikan dalam bentuk kebutuhan dasar seperti makanan. Anak sehat selalu menebar cinta.
Pada bulan baik dan hari baik Ramadhan ini, marilah kita belajar dari masa kecil kita. Menebar cinta, yang membuat kita sanggup mengeksplorasi dunia dan hubungan yang terjadi didalamnya. Sekaligus membuang prasangka, asumsi dan hal lain yang membuat dunia lebih sempit dari kenyataannya.
Sessi 4 jam ini mengelaborasi secara experiential, hal-hal berikut ini :
Cinta diawal, ditengah dan diakhir selalu harus tanpa syarat
Cinta berorientasi pada harmoni, dan harmoni dibentuk oleh interaksi
Rumitnya cinta karena interaksi dipandu oleh individu-individu dengan kepentingan masing-masing yang tidak sejalan dengan harmoni universal
Bagaimana menebar cinta dalam kantor ?! Simple saja: jauhi kepentingan kontradiktif
Kepentingan itu adalah ide  dalam pikiran. Pikiranlah yang memicu peperangan di dunia. Mari buang apa yang membuat pikiran kita tidak lagi bisa mencintai
Turn Spirit become a Culture
Spirit dalam bahasa Indonesia sering ditafsirkan sebagai semangat, walau pemaknaan lain adalah ruh atau jiwa. Pada intinya, spirit adalah apapun membuat raga ini "hidup". Menjadi pertanyan menarik, apa yang "hidup" dikantor Anda?!
Kantor yang dihidupkan oleh target dan desakan atasan, akhirnya akan redup pula. Sebaliknya kantor yang hanya dihidupkan oleh kebersamaan yang ramai namun tidak terarah pada tujuan, akan menyenangkan tapi tidak akseleratif bagi kemajuan.
Ramadhan  mengajarkan niat sebagai landasan menuju konstruksi kebaikan. Niat bak kunci menyalakan mesin, tersimpan dihati yang bersih dari tujuan lain kecuali apa yang relevan bagi niat itu sendiri.
Sessi ini membedah hati melalui apa yang tersimpan dalam pikiran. Sandarkan apa yang baik dalam pikiran Anda, sehingga hati menangkap apa yang dikehendaki serta mengalirkannya pada setiap denyut pembuluh darah. Hati pun memberi pancaran gelombang, menyatu dengan gelombang yang sama dari hati yang lain. Hal terakhir ini mempengaruhi perilaku bersama. Tugas seisi kantor hanyalah tinggal menyirami apa yang diniatkan untuk tumbuh, dan tidak memberi pupuk untuk apapun yang tidak dikehendaki tumbuh.
Manakala semuanya cukup jelas dipetakan, disanalah culture perlahan terbentuk.
Healthy inside, Happy outside
Jika pilihan sessi lain mengenai hati adalah  bagaimana menumbuhkan semangat didalamnya, pada pilihan sessi ini hati dibedah dalam serangkaian komponen dengan pisau pertanyaan dasar: apa yang membuat hati itu sehat ?!
Sessi ini fun, walaupun tingkat pemahaman spiritualnya dapat menjangkau langit. Tahap pertama, bisakah Anda berkaca. Sebab apa yang tampil dikaca adalah refleksi apa yang ada dalam hati Anda.  Tahap kedua, secara experiential, Anda membuang semua ganjalan didalam hati. Dan ketika semuanya sudah "dimuntahkan", lihatlah (agar tidak terulang lagi) apa yang ada disana dan membuat hati tidak sehat…..
Tahap berikutnya, kita belajar "healing" sederhana untuk hati. Bukan dengan tenaga dalam atau sejenisnya, namun dengan pancaran kehangatan cinta universal. Marilah melanjutkan dengan terapi wajah, agar "kerut hati" tidak menjalar menjadi kerut wajah.
Tahap itu hanya sugesti diri, karena inti selanjutnya terletak pada tahap akhir sessi ini : berkomunikasi dengan hati. Sessi ini tidak bermaksud mengadopsi teknik dramatisasi, namun diharapkan memberi kesempatan setiap individu "masuk" pada hatinya, dan lalu menyayangi setiap organ tubuhnya sampai titik mampu menjaga kesehatan keseluruhan dengan keseimbangan lahir dan bathin secara perilaku
Suggested session :
16.00 – 19.00
together with your shaum break
Method of session :
Games, Debrief & self expression
Facilitator :
Niam Muiz
Niam Muiz, adalah konsultan Human Resources dengan pengalaman lebih dari 19 tahun melayani berbagai perusahaan nasional & multinasional,  kerap bertindak sebagai "Business Consultant" bagi para kliennya.
Lulusan Fak.Psikologi Universitas Indonesia dekade '80an, disamping pendalaman ilmu marketing di Amerika Serikat & Malaysia. Ia memulai karirnya di Price Waterhouse Consultant, dan sejak itu berkiprah pada beberapa dari Big Six Consulting Firm, seperti KPMG Sudjendro Consultant, dan terakhir di Coopers & Lybrand sebagai Managing Consultant.
5 tahun disela pengalamannya tersebut ia menduduki jabatan puncak sebagai Chief Operating Officer (COO) sebuah group perusahaan untuk mengelola sekitar 45 anak perusahaan dengan portofolio sekitar 100 juta USD, bahkan menanamkan usaha di Amerika Serikat.
Dibidang professional, ia pernah menjabat Executive Secretary ASEAN mewakili gabungan pengusaha Indonesia, dan menulis beberapa buku. Ia juga Chairman dari Nun Mim Foundation, sebuah Yayasan yang berfokus pada pembedayaan ekonomi ummat.
Fokus utamanya adalah pemberdayaan & aktualisasi. Ia bukan orang teknis pada satu lapangan tertentu, tapi banyak orang menemukan dirinya lebih baik setelah fasilitasi yang diberikan olehnya.
Perkiraan Biaya & Informasi lainnya
Penawaran ini bukan untuk program individual tapi untuk corporate/institusi
Rp. 10.000.000,-  per sessi ( Pukul 4 sore -7 malam) utk sekitar 50-80 orang,
Untuk peserta  di atas 100 orang  biaya meningkat (Bisa dinegosiasikan lebih lanjut)
cforms contact form by delicious:days
MORE ABOUT NIAM MUIZ
Curriculum Vitae
Learning Facilitator/Trainer
Org. Dev.  Specialist
Business adviser
Change coach
Industrial Psychologist
TESTIMONY
Sulit menemukan trainer yang mampu "berbahasa" sesuai audiens – dari operator pabrik hingga board of Director- seperti beliau.  Seorang easy going, berbobot wawasan luar biasa, dan enak sekali mengajak audiens belajar sesuatu yang rumit dengan cara sederhana.
Herman Saleh – Commercial Director PT Mandom Indonesia
Pak Niam Help our organization through mass program , yet he turns  the facilitation  into one on one attention. His creative approach balanced with his total commitment  towards our strategic requirements
Bingo Pantaleon – Marketing Director PT  Unilab Indonesia
Ia adalah trainer yang telah melayani kami sejak 1997, dan sangat persistence dengan image sebagai change facilitator. Setiap kali kami undang, ia selalu menghadirkan hal baru. Ia mencerminkan dirinya  sebagai walk the talk bagi siapapun trainee nya yang belajar perubahan
Aidar  Prakoso – HR Director PT Manulife Financial
Menghitung  pembekalan yang ia berikan  pada management kami, sungguh merupakan effective investment……………
Santosa – Finance Director PT Astra Agro lestari
Langka mendapatkan mitra penyedia jasa training yang cepat dan akurat memahami kebutuhan & kondisi spesifik organisasi kami. Terlebih lagi, ia mampu men-scan profil peserta dalam sekejap. Pak Niam memang bekerja dengan "mata ketiga"……………….
Pandji Darmawan – HRGA Director  PT Infomedia Nusantra – Telkom Group
Educational Background
Niam Muiz, Msc, MPsi
Master Psikologi
Lulus Fakultas Psikologi Universitas Indonesia 1987
Short courses di USA dan Malaysia
Professional Affiliation
American Management Association
Ikatan Nasional Tenaga Ahli Konsultan Indonesia
Himpunan Psikologi Indonesia
American Board of NLP
Hypnosys School of Indonesia
Books published :
Entrepreneurship Millenium, melindas atau digilas jaman
Negeri Phonary, events of becoming
The Psychology of Opportunity
Mengobati hati dengan hati
Professional Career
1984        Bina Manajemen Indonesia (BIMINDO) -Junior Trainer
1987        Price Waterhouse Siddik Consultant – Senior Consultant
1991        KPMG Soedjendro Soesanto Consultants – Senior Manager
1994        IMI International – Group of companies – Chief Operating Officer
1996        Coopers & Lybrand Consultant – Managing Consultant
1998        INSPIRA Consulting – Managing Partner
Social Contribution:
Lajnah Pengembangan SDM (Lakpesdam) – Nahdlatul Ulama Wakil ketua
Majelis Ekonomi PP Muhammadiyah
Nun Mim Foundation Chairman
Assignments :
1988 – Bank Tabungan Negara (BTN) – Consultant for Organizational Restructuring
1990 – Perum Otorita Jatiluhur – Departemen PU – Senior Consultant for system Development
1993 – Sempati Air – Project Director for strategic recruitment
1995 – Ika Muda International – Director for Global Market Invention
1998 – ASEAN Fisheries – Executive Secretary
1999 – PT TELKOM – Project Director for Corporate Culture socialization
2000 – PAM Lyonnaise – Project Director for Change internalization
2001 – Aqua Golden Missisipi – Chief facilitator for Change & Development
Specialized Training Domain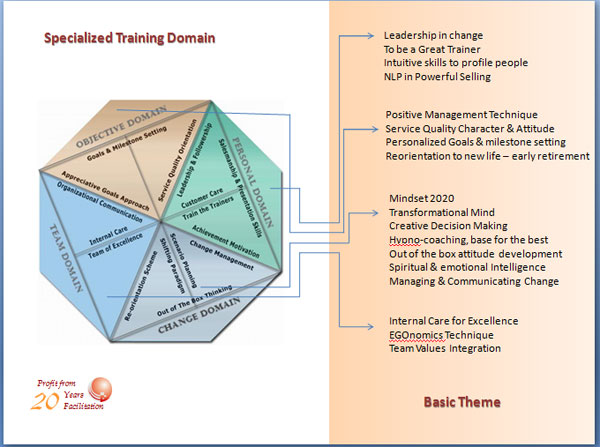 Leadership in change
To be a Great Trainer
Intuitive skills to profile people
NLP in Powerful Selling
Positive Management Technique
Service Quality Character & Attitude
Personalized Goals & milestone setting
Reorientation to new life – early retirement
Mindset 2020
Transformational Mind
Creative Decision Making
Hypno-coaching, base for the best
Out of the box attitude development
Spiritual & emotional Intelligence
Managing & Communicating Change
Internal Care for Excellence
EGOnomics Technique
Team Values Integration
CLIENT UTAMA UNTUK SETIAP THEMA
Leadership & Change Clients
Transformational Leadership
Bank Indonesia
Manulife Financial Indonesia
CIMB Niaga
ABN Amro
Satelindo
Telkomsel
Garuda Indonesia
Motivational Leadership
Bank Mandiri
Higashifuji Indonesia
DBS Bank
Oracle Indonesia
Aqua / Danone
Leadership in managing people
Mandom Indonesia
Hutchison
Infomedia Nusantara
Calmic Indonesia
Leadership for Value Creation
Universitas Indonusa Esa Unggul
PNPM (urban poverty management)
Hutchison CP Telecommunication
Rena Focus
Developing agent of Change
Lippo Bank
Kliring Penjaminan Efek Indonesia (KPEI)
Eisai Pharmaceutical
Badan Koordinasi Penanaman Modal (BKPM RI)
BRIngin Life
Sqmudera Indonesia Group
Managing Change
Darya Varia Laboratories
Sanofi Aventis
Reckitt & Benckiser
IBM Indonesia
Trimegah Securities
Change – socialization & internalization
Bakrie Learning Center
Medifarma Laboratories
TOTAL Indonesie
Indosat M2
Paradigm Change
Mandom Indonesia
Lembaga Sensor Film
Badan urusan Logistik RI
Ciriajasa
Program Pengentasan Kemiskinan Perkotaan (P2KP)
Nurturing Revitalized Team
Kosmojaya Pandu Nusa
CP Prima Bahari
Astra Agro Lestari
PEKKA – NGO
Jamsostek
Team for Excellence
Mead Johnson Indonesia
Gilang Agung Persada
Trimegah Securities
Data Pati Advertising
Astrindo daihatsu
Rumah Sakit THT Menteng
Adversity Quotients
Kliring Penjaminan Efek Indonesia (KPEI)
Prima Nur – Samudera Indonesia Group
Deloitte Touche Tohmatsu (DTT)
Indonesia Power – Saguling
Sari Segar Alami
New Values for merged entities
Chevron Oil
Danamon Bank
PT Telekomunikasi Indonesia
Panasonic Lighting
Biofarma
Holcim Cement Indonesia
Charoen Pokphan Hatcheri
Perusahaan Gas Negara (PGN)
Aqua/Danone
Mastering Latest Techniques
Third eye – Bina Nusantara
Spiritual Quotient – Jamsostek
EGOnomics skills – Astra CMG Life
Positive Management – Telkomsel
NLP for Selling – Honda Imora Motor
Emotional Quotients – Blue Scope Steel
Malcom Balridge Scoring – Trust Securities
Career Transition Assistance – Bank Permata
Appreciative Inquiry – Telekomunikasi Indonesia
Brain balance: emotion-creative- intuitive – Bank Indonesia
Experiential Technique for Teaching – Universitas Indonesia
Mind programming, technique for coaching – Universitas Pelita Harapan
About the Author: Admin